---
Home | About Us | Entabeni Cottage | Reviews | Reservations | Directions | Contact Us
---
Reviews
Here are comments and photos from guests who've stayed at Entabeni Cottage overlooking the Pacific Ocean above the world famous "Road to Hana" on the north shore of Maui in the Hawaiian Islands.
Paradise: Ocean View Cottage Solar Power Tropical Flower Farm
• "Entabeni Cottage is true paradise. Terry and Michael are the most thoughtful and kind hosts one could ask for. We look forward to another stay next year (or sooner). Highly recommended!" - Ann P. (February 2023)
• "Wow, where do we start? It's magical! Tucked up in rainforest right before Hana and overlooking the Pacific Ocean. A perfect bungalow retreat... After dinner, we retreated to our bungalow for a cozy candlelit dinner by the wood stove. It was very rainy and a bit cool, so the fire was fun! The bed is very comfortable and the bathroom is spacious. The cottage is very clean and well appointed with thick cotton towels, silky cotton sheets, and fresh farm eggs! Coffee beans and milk were provided for the morning. Before we left, we walked all around this spectacular property and saw all the tropical plantings, resident kitty cats and chickens. Thank you for the wonderful memories!!!" - Catherine, CT (December 2022)
• "What an authentic experience we had staying at the cottage! Our only regret was not staying longer! I spent the night with my 19-year-old daughter and was delighted with the view, walk through the gardens, and time spent petting the spirited cat. Loved the decor and functionality of the cottage, after a long day of travel, enjoyed watching a movie selected from the DVD library. The owners had wonderful suggestions on how to plan our trip through Hana, we ended up doing the full loop, and it far exceeded our expectations. What a delight! Mahalo!" - Shannon, Illinois (December 2022)

• "Perfect hosts, incredible setting. It's in a very rainy part of (Maui), but that has its charms. With mature plants and trees from all over the tropics, Michael has created an amazing botanical preserve around his home and the cottage. Michael's commentary and the opportunity to ask our many questions lifted this experience far above (others). I encourage you to visit this lovely place." (November 2022)

• "Absolute Perfection. This place is a dream. We stayed two nights and we could have spent our whole week there happily. This is the rare property that is truly different and off the beaten path. The house itself is charming and cozy. We spent the evenings taking in the breezes of the jungle on the porch and our days exploring Hana and the surrounding area. It felt like we were in another world. The hosts are amazing, interesting, engaging folks who made our stay superb. Terry took time to go through the rental with us and had everything ready for our arrival, including freshly picked veggies and fresh eggs. The land is just so incredible - in the jungle high above the ocean. You even get both sunset and sunrise views. We knew it was going to be special when we booked it, but we didn't realize how magical the place truly is until we arrived." - Ann C. (July 26, 2022)

• "Possibly the most amazing property we have ever stayed at. We wanted something different on an overnight visit to Hana and got more than we bargained for. Set in a botanical garden, you feel like you are living in a tourist attraction without the tourists. The cottage was clean, well kept and well appointed. With the right combination of old Hawaii and new, you can feel like you have stepped back in time but with the conveniences. The cottage is private with a sweeping view of the Pacific. Our hosts were gracious and made us feel welcome and at home. Terry took the time to show us around the grounds and we enjoyed talking story with her. Our visit to the Cottage was certainly a highlight of our trip." - Hank and Michelle

• "Do not miss the chance to stay at this beautiful cottage along the Hana highway if you have the chance. The cottage is absolutely charming and gives you a chance to experience a peaceful side of Hawaii. The cottage is equipped with everything you need to cook, relax, and pack up for a day exploring and seeing the beaches on this side of the island. We loved our stay here and felt very well taken care of by these generous hosts. We hope to return someday." - Name Withheld Upon Request

• "My wife and I had a three-night stay at Entabeni cottage. We completely enjoyed the relaxing, zen-like atmosphere of the property and the spacious comfort of the cottage. Owners Terry and Michael are tremendous hosts - very generous with their time to give us tours of the gardens and with farm-fresh eggs and daily selections of fresh-picked produce from their greenhouse. We enjoyed being at the property so much it was hard to leave for our daily adventures!
The cottage is quite roomy, has a very well-equipped kitchen, a comfortable bed and sitting area, and a spacious lanai with a nice ocean view, perfect for enjoying sunrise and sunset. While there's no TV service, we enjoyed movies from the large DVD collection each night. Having a washer and dryer in the cottage was also a plus. Everything was very clean and well-maintained. An added bonus was the opportunity to bond with Kit the cat. He's very friendly and has rather dog-like behavior--loves to be petted and followed me around during my walks on the property.
I can't imagine a better place to stay while in Hana. We truly look forward to our next visit."
- Gary G., Eden, Utah

• "The cottage is lovely and very well kept! There were fresh tropical flowers on the table on our arrival. Terry and Michael were gracious and informative hosts. We enjoyed the fresh eggs and vegetables Terry delivered daily. They helped with great meals made in the well stocked kitchen. The cottage is airy and has a spectacular view. At night, it was very soothing to hear soft rain on the roof and wind chimes softly playing on the lanai. The gardens have wonderful flowers and plants. Michael shared his knowledge regarding the "green" living and power on their property. Our days at the cottage were a tranquil end to our stay on Maui. I highly recommend a stay here. It was a wonderful stop on our road to Hana trip and a great place to stay and explore the town and local area at a more leisurely pace." - Name Withheld, Pennsylvania
Note: See some of the 400 varieties of tropical and sub-tropical plants at EntabeniGardens.com.

• "The photos and description do not do justice to this peaceful, beautiful cottage. It was quiet and a perfect place to read, walk and recharge. Gorgeous greenery and flowers abound. Funny chickens. The hospitality was incredible. No detail was ignored... right down to the daily pastel hued egg delivery and the thoughtfully equipped kitchen." - Mary Beth A.
• "The view from the back porch is spectacular even in the rain. The interior is spacious, well equipped and perfect for a couple. Michael and Terry are gracious hosts who work hard to make you feel welcome." - Joan Anne Z.

• "Relaxing at its best! The peacefulness of this property is incredible. The hospitality of Terry and Michael is amazing. We loved every minute of our 7-night stay." - Dennise E.
• "Exceeded expectations, wow! I saw that this place was higly reviewed and was excited to get there but nothing could of prepared me for how beautiful this property really is." - Tony L.
• "This is one of the most beautiful places that I have ever stayed. The lush tropical plants and trees, the spectacular views of the blue ocean, and the gentle breezes combine to make it paradise on earth. Michael and Terry are wonderful hosts." - Matthew K.
• In his Camping America blog, Gerry Feehan of Alberta, Canada included this photo (see below) when writing about Entabeni Cottage, "We had absolute privacy, from the gorgeous ocean view to the solar-heated outdoor shower. The north wall of the cottage consists entirely of glass doors. Each morning we awoke to a 180-degree view of the ocean."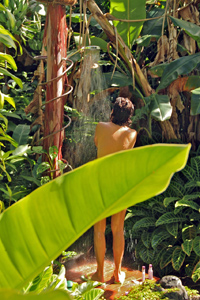 • "We loved the outdoor shower and used it daily. We love the peace and quiet, the view, the privacy... Our kind of place."
- Susan & Ernie, Saskatoon, SK Canada
• "Entabeni Cottage is an oasis of peace, comfort, and life! How liberating to shower outdoors in the pouring tropical rain, and how lovely to dry off on the porch watching a rainbow kiss the sea. This week of relaxation and rejuvenation was a blessing. Thank you for all your considerations, in each comfy detail, and for your hospitality in sharing this taste of heaven with us."
- Dirk & Jennifer, Kodiak, Alaska
• "Your place is such a paradise within a paradise."
- N. Clayton & Laurel, Makawao, (Maui) Hawaii
• "We have enjoyed our stay here so much more than we ever imagined! The cottage is exactly what we were looking for - quiet, beautiful and full of the magic we hoped to find in Hawaii! Thank you for sharing your amazing produce with us. Our dinners were outstanding and breakfasts with the fresh fruit were amazing as well. We also loved the impromptu tour of the stunning garden you've created here. Thank you, thank you. We hope to be back again."
- Shawn & Callandra, Canada
• "Your cottage and property are so beautiful! Thank you so much for your generous hospitality and for sharing the fruits (and eggs) of your labor so that others can enjoy the absolute beauty of this area! I'm so glad we took the time this morning to take it easy and enjoy breakfast out on the back patio. Absolute gorgeousness and beautiful tranquility."
- Andy & Marilyn, Millbrae, California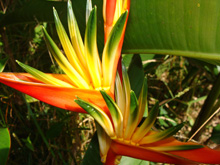 • "We were looking for a quiet place to recharge our spirits. This was the place."
- M & D Gallo, Honolulu, Hawaii
• "What a treat! We feel like we discovered our own secret hideaway in the rainforest."
- R. Sacks & K. Silverman, Ontario, Canada
• "On the Island of the Sun, Entabeni Cottage rekindled the aloha in our spirit souls."
- P & L Klabacha, Lemont, Illinois
• "From the moment we arrived, this cottage took our breath away. The welcoming candles, fresh flowers tucked all around, and the tasty fruit were all wonderful touches. The wood stove kept us cozy as we reveled in our good fortune to spend time here."
- K & M Mallette, Fairbanks, Alaska
• "Stunning. The view, the bed, the wind chimes, even the quiet of the rain was stunning. I slept like I've never slept and your hospitality was amazing. The eggs were wonderful. I can't wait to come back."
- T. English, Ft. Lauderdale, Florida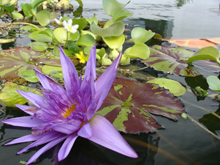 • "This is our kind of place - so peaceful, beautiful, private - the Hawaii we love! Michael's tour was informative and fascinating and the fresh vegetables, bananas, & eggs were a treat. We loved the cottage and its open feeling. Had the best coastal hike yet (out of 100's) from Wainapanapa State Park south towards Hana."
- Margie & Scott, Oregon City, Oregon
• "You have a wonderful place. It has been perfect for me, far better than any hotel; my best stay in Hana ever, and I've had many."
- Bill, Silverton, Oregon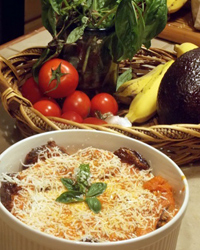 • Tony and Kelly sent us this photo (see left) and wrote, "Eggplant parmigiana with scratch sauce all from your garden. Thank You!"
• "I got nuts in that amazing kitchen and loved cooking delicious dinners. The bed was super comfy."
- C & F, Germany
• "Thank you for your wonderful hospitality! We so enjoyed staying in your cute cottage. It is so peaceful here, a nice change from the West side (of Maui). Thank you for the delicious produce. We made some delicious meals out of it. We hope to see you again!"
- Chris & Holly, Napili, (Maui) Hawaii
• "Really enjoyed your little cottage; the fire and everything. The bed was good as well. The fish and eggs were delicious."
- M & L Morofke, Canada
• "Thank you so much for the wonderful two weeks in your cottage. We enjoyed the comfortable and modern equipment, especially that all was clean. With your good wood burning stove, we had it warm all the days. After two weeks of exploring and hiking, we can recommend the following trails: Trail from your garden to secluded waterfall, Waimoku Falls Trail, Wainapanapa Coastal Trail to Hana, Waihee Ridge Trail, Sliding Sands Trail, Nature Trail at Hosmer Grove, Kaupo Trail, and Hoapili Trail."
- J & A Boehnisch, Leipzig, Germany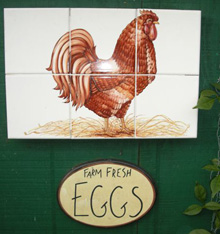 • "What a wonderful place you have here; so peaceful, tranquil, relaxing. We absolutely loved Entabeni Cottage and can't wait to come back to spend more time. Thank you for everything! We loved the eggs, all the veggies, herbs, and especially the personal tours. You have a place of heaven here and we loved every minute - just wish it could have been longer."
- Joe & Merry, Corvallis, Oregon
• "I loved the rain, the birds, gardens, and forest. The eggs too - they taste so much better fresh!"
- B. Stadem, Colorado
• "Our stay at Entabeni Cottage has been surreal and we have loved every second of it! It's been a real pleasure spending time chatting with you. Thank you for everything, including the eggs (Yay!), fresh fruit and veggies, and herbs. It will be hard for us to leave tomorrow."
- Jessica & Daniel, Portland, Oregon
• "A piece of heaven on Earth; the bed, the shower, the greenhouse, the guinea hens, the eggs. But most of all... THE HOSTS! Thank you Michael & Terry for letting us into your world and spoiling us forever."
- Jan & Mariseza, California & Puerto Rico
Note: Why so many comments about our eggs and produce? We often provide our guests with fresh eggs from our chickens and produce from our garden.
We hope to add your comments to this page! Contact us for more information about Entabeni Cottage.

---
Home | About Us | Entabeni Cottage | Reviews | Reservations | Directions | Contact Us
---
Web: EntabeniCottage.com/reviews.html

© 2023. All rights reserved.

E-Mail: info@EntabeniCottage.com

Telephone: 1-808-248-7600