---
Home | About Us | Entabeni Cottage | Reviews | Reservations | Directions | Contact Us
---
Directions to Entabeni Cottage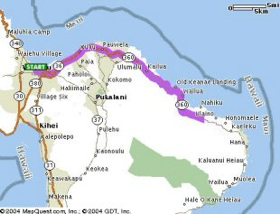 Entabeni Cottage is located above the world famous "Road to Hana" on the north shore of Maui, Hawaii.
We're about 90 minutes (36 miles) east of Kahului Airport and about 25 minutes (8 miles) west (and north) of Hana.
The "Road to Hana" (also known as the Hana Highway or Route 360) was added to the National Register of Historic Places in 2001 and is considered a National Millennium Legacy Trail.
The drive to Entabeni Cottage on the "Road to Hana" features breathtaking beauty - views of the Pacific Ocean, north shore Maui coastline, waterfalls, eucalyptus groves, bamboo, and lush rainforest. Fresh tropical fruit stands are dotted along the way. Nearby Hana is referred to as "Heavenly Hana" by locals and tourists. This side of Maui is misty and colorful rainbows are common.
When driving to Entabeni Cottage on the "Road to Hana," there are many places to pull over and enjoy the scenery. Enjoy the journey, allow plenty of time to get here. Average driving speed is only 15 or 20 mph!
Entabeni Cottage is located at 370 Hana Highway, between mile markers 25 and 26.
Drive east towards Hana on the Hana Highway (Route 360), pass mile marker 25 and the Lower Nahiku Road, and continue on the Hana Highway until you see our mailbox (370) on the right side of the road.
When you see our mailbox, turn up the two concrete runners on the driveway. When you reach the top of the driveway, a statue of St. Francis of Assisi directs you to park in front of Entabeni Cottage on the right.
FLY: Kahului Airport in Central Maui is serviced by direct flights from other Hawaiian Islands and the U.S. mainland. The Hana Airport is less than 30 minutes from Entabeni Cottage. Fly between Kahului and Hana on Mokulele Airlines (link opens in a new tab or window).
Our favorite car rental company on Maui is Kihei Rent A Car, family owned and operated.
Contact Us for more information about staying at Entabeni Cottage.

---
Home | About Us | Entabeni Cottage | Reviews | Reservations | Directions | Contact Us
---
Web: EntabeniCottage.com/directions.html

© 2023. All rights reserved.

E-Mail: info@EntabeniCottage.com

Telephone: 1-808-248-7600