---
Home | About Us | Entabeni Cottage | Reviews | Reservations | Directions | Contact Us
---
About Us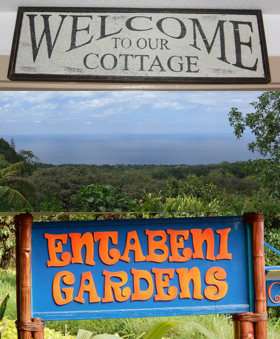 Our Entabeni Cottage vacation rental sits above the world-famous "Road to Hana" overlooking a wide expanse of the Pacific Ocean to the north here on the Hawaiian Island of Maui.
Our gentle climate massages body and soul of those who come to enjoy our tropical paradise.
In the Zulu language in South Africa, entabeni means "the place on the hill with a view."
In addition to Entabeni Cottage, our 6.25 acre property features Entabeni Gardens with our exquisite collection of 400 varieties of tropical and sub-tropical plants. See the EntabeniGardens.com website.
• Michael Kristiansen, born in South Africa, has a degree in Landscape Architecture, Park Administration, Ornamental Horticulture, and is a Certified Arborist.
Michael is a consultant in landscape management and horticulture, runs workshops in tropical horticulture, pruning, mulching, composting, docent training, and staff training. He is the past Director of the Honolulu Botanical Gardens and a long-time teacher at UCLA Extension in Landscape Architecture and Gardening and Horticulture.
• Terry Kristiansen, manager of Entabeni Cottage, has worked with Michael for nearly 52 years of their marriage and shares his love of nature, the tropics, and their 6.25 acre tropical botanical garden on Maui.
We share our lives with our two sons and their families, four cats, a flock of chickens and guinea fowl. We grow flowers, fresh fruit and vegetables. We offer fresh eggs and produce to our guests.
Mahalo (thank you) for visiting our web site. Please contact us for more information.
Michael and Terry Kristiansen
Entabeni Cottage vacation rental
Overlooking the Pacific Ocean above the "Road to Hana" on the north shore of Maui, Hawaii
Maui County License & Permit: BBHA 2013-0006 and SUP2 2012/0011

---
Home | About Us | Entabeni Cottage | Reviews | Reservations | Directions | Contact Us
---
Web: EntabeniCottage.com/about.html

© 2023. All rights reserved.

E-Mail: info@EntabeniCottage.com

Telephone: 1-808-248-7600