---
Home | About Us | Entabeni Cottage | Reviews | Reservations | Directions | Contact Us
---
Enjoy Our Tropical Paradise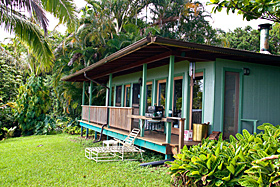 Entabeni Cottage vacation rental sits above the world famous "Road to Hana" overlooking the Pacific Ocean in the tropical rainforests of East Maui, Hawaii. Our gentle climate massages body and soul of visitors who come to enjoy our tropical paradise.
Entabeni Cottage is a special gem, a clean, private, off-grid, fully-equipped home (860 square feet), powered by the sun, filtered water from rain, beautifully situated on what's known as Entabeni Gardens, our gorgeous 6.25 acre tropical botanical garden.
Rent Entabeni Cottage during your Maui vacation and enjoy ocean views from your choice of a king or twin-size beds, fully-equipped kitchen, lanai (deck), and private yard with a warm water outdoor shower.
There's no TV or radio reception in this remote area on the north shore of Maui. However, you can make free phone calls to the USA and Canada, share our new, high speed, fiber optic Internet connection, and enjoy a DVD library while gazing at a wide expanse of the Pacific Ocean. Read about other amenities.
We're located about 90 minutes (36 miles) east of Maui's Kahului Airport (OGG) and about 25 minutes (8 miles) west of Hana (HNM). The back of our property borders Maui County's Soil & Water Conservation District (SWCD) for Hana. Trails and nearby hikes lead to waterfalls and fresh water pools on the eastern slopes of Haleakala ("House of the Sun" in Hawaiian) with its summit 10,000 feet above sea level.

Eco-friendly, environmentally conscious: We're off the grid! Electricity from sunshine; filtered water from rain; eggs from chickens; fruit, veggies, and flowers from the land ('aina in Hawaiian).
Gorgeous: Our botanical gardens feature an exquisite collection of 400 varieties of tropical and sub-tropical plants. See our EntabeniGardens.com website (link opens in a new tab or window).
Ask us about locally-owned businesses, events, and activities here on the lush north shore of East Maui. Keli Everett provides surfing lessons from beginner to advanced. See HanaSurfLessons.com for more info.
Mahalo (thank you) for visiting our web site. Contact us for reservations and more information.
Michael and Terry Kristiansen
Proprietors, Entabeni Cottage vacation rental
Overlooking the Pacific Ocean above the "Road to Hana" on the north shore of Maui, Hawaii
Maui County License & Permit: BBHA 2013-0006 and SUP2 2012/0011

---
Home | About Us | Entabeni Cottage | Reviews | Reservations | Directions | Contact Us
---
Web: EntabeniCottage.com

© 2023. All rights reserved.

E-Mail: info@EntabeniCottage.com

Telephone: 1-808-248-7600